eatrip
Film Row Cinema, Columbia College
1104 S. Wabash Ave., 8th Floor
Chicago, Illinois, 60605
United States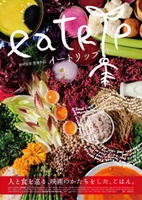 eatrip, a documentary directed by food expert and radio personality Yuri Nomura which explores the importance of food in human culture and social customs surrounding it. The film brings together celebrities such as actor Tadanobu Asano, singer UA, German fashion designer Jurgen Lehl, and others to talk about their own experiences and share a meal.
For more information, including film synopses and pictures, go here
Also, it's FREE!
http://eatrip.jp/ (Japanese)

intrepidmouse . Last modified Jul 09, 2010 12:14 p.m.
---