Ningyo San-nin Kyodai-ten
Agabe Gallery
Ginza Kyodai 1 Floor, 4-21 Ginza, Chuo-ku
Tokyo, Tōkyō
Japan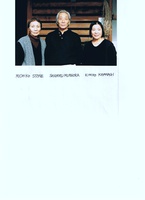 Canadian Nikkei artist Kimiko Koyanagi (Burlington, Ontario), her brother Shigeru (Tokyo), 74, and sister, Michiko (La Jolla, California), 72, will be having a show of their collective work at the Agabe Gallery located in Ginza, Tokyo. Their sculptured dolls will be on display from February 2 to 7, 2010. The gallery is within walking distance of Yurakucho Station.
See upcoming artist profile by Norm Ibuki.

Masaji . Last modified Nov 02, 2010 12:07 p.m.
---