Stir-Friday Night Comedy
Theater building Chicago
1225 Belmont Ave
Chicago, Illinois
United States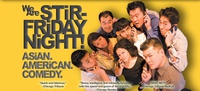 The Ninth Annual Chicago Sketch Comedy Festival
We're performing again in this year's Chicago Sketchfest!
It's your last chance to the critically acclaimed, "Rock Out With Your Wok Out!" The show starts Friday, January 8 at 8pm.
Tickets are $12.50 and available on The Theatre Building's web site HERE or call 773-327-5252.
Start your new year with big laughs from your friends at Stir-Friday Night!
Chicago is the sketch comedy capital of the world! The Chicago Sketch Comedy Festival is an annual event that celebrates the best in local, national and international sketch comedy. Over two weeks, 100 sketch comedy troupes will perform 125 shows. In addition to the performances, we offer workshops, networking events, and children's programming. The Chicago SketchFest is the world's largest sketch comedy festival, with hundreds of funny people in one convenient location - laughter guaranteed.

intrepidmouse . Last modified Jul 09, 2010 12:14 p.m.
---