Little Tokyo Historical Society's Community Photo Share Day
Democracy Lab at the National Center for the Preservation of Democracy
111 N. Central Avenue
Los Angeles, California, 90012
United States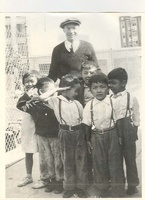 Attachments
The Little Tokyo Historical Society is dedicated to discovering, preserving, and sharing the history of Little Tokyo in Los Angeles. The Society records the varied and nuanced stories of people who lived, visited, and worked in Little Tokyo and documents the sites and events that have created this rich and colorful enclave.
The Little Tokyo Historical Society is currently working on creating an archive of historic Little Tokyo images and a book with Arcadia Publishing. If you would like the Society to scan images from your collection to include in our archive, and possibly in our publication, please come to our Community Photo Share Day on Saturday, December 5, 2009 between 11:00 A.M. and 3:00 P.M. Please contact Stephanie Van at svan@ltsc.org or (213) 473-1665 to schedule an appointment. If you cannot attend the event, but would like to have photographs scanned, please contact Deanna Matsumoto at tormseth@altrionet.com or at (626) 445-7191. We would like to scan photographs that capture your family's history of Little Tokyo and include them in our archives to share with the public. Please help the Little Tokyo Historical Society preserve Little Tokyo's rich history.
(If you plan on attending the event, you can fill out the attached Photo Information Sheet at home to save some time. Please use one form for each photo and fill out as much information as possible. Leave the gray section entitled "For Office Use Only" blank. Thank you!)

lthistory . Last modified Jul 09, 2010 12:13 p.m.
---