The President's Signature Series 2009-10 Jessica Hagedorn in conversation with Wei Ming Dariotis and Laura Kina
DePaul University Art Musem
2350 North Kenmore Ave.
Chicago, Illinois, 60614
United States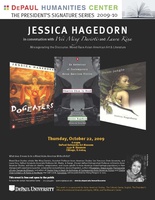 What does it mean to be a Mixed Asian American Writer/Artist?

Mixed Race Studies scholar Wei Ming Dariotis, Assistant Professor Asian American Studies San Francisco State University, and Laura Kina, DePaul University Associate Professor Art, Media, & Design, Vincent dePaul Distinguished Professor & Director Asian American Studies, will take on identity, categorization, and issues specific to Asian American mixed heritage populations in their dialogue with award winning writer, screenwriter and performer, Jessica Hagedorn, author of Dogeaters, Dream Jungle, The Gangster of Love, Danger And Beauty, and editor of Charlie Chan Is Dead: An Anthology of Contemporary Asian American Fiction and Charlie Chan Is Dead 2: At Home in the World. Her next novel, Toxicology, will be published by Viking
Penguin in 2011.

This event is co-sponsored by Asian American Studies, The Cultural Center, English, The President's Office of Institutional Diversity and Equity, OMSA, and The Women's Center.

© 2001-2008 DePaul University | Disclaimer | Contact Us
1 E. Jackson, Chicago, IL 60604 | 312-362-8000

intrepidmouse . Last modified Nov 22, 2013 7:26 a.m.
---