Tokyo Gore Night
The Silent Movie Theatre
611 N Fairfax Ave
Los Angeles, California, 90036
United States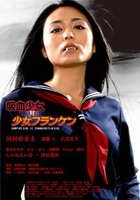 Celebrate Halloween early at the Los Angeles premiere of Vampire Girl vs Frankenstein Girl directed by Yoshihiro Nishimura and Naoyuki Tomomatsu, based on the manga by Shungiku Uchida.
The screening includes short films that Nishimura and his special effects team made when they were between jobs ... a rare treat for J-horror fans!
Please visit The Cinefamily site for more information:
http://www.cinefamily.org/calendar/events.html#tok

letsugo . Last modified Jul 09, 2010 12:13 p.m.
---