New Exhibit: Bill and Sam Naito – A Portland Story
Oregon Nikkei Legacy Center
121 NW 2nd Ave
Portland, Oregon, 97209
United States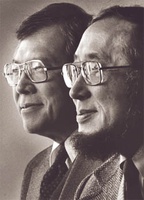 Bill and Sam Naito: A Portland Story is a new exhibition which focuses on the history, work and legacy of brothers Bill and Sam Naito.
The exhibit follows the establishment of the family business in 1920 by their father Hide, being "thrown out" of Portland during the forced resettlement of Japanese Americans during World War II, the post-war reestablishment of the business, and ultimate success of their many ventures.
The exhibit features historic family photographs and ephemera in addition to archival images from the collection of the Oregon Nikkei Legacy Center. One of the many exhibit highlights includes the transformation of Old Town from the seedy Skid Row to the nationally recognized and lauded Skidmore-Old Town National Historic District.
Learn more at www.oregonnikkei.org .

Oregon_Nikkei . Last modified Jul 09, 2010 12:13 p.m.
---