The Other Dance Festival with Ayako Kato
Hamlin Park Field House
3035 N. Hoyne
Chicago, Illinois
United States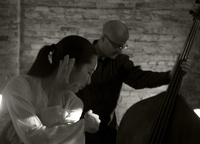 The OTHER Dance Festival 2009
FINAL WEEK! OCT 1 and 2. 7:30 pm Hamlin Park Fieldhouse Theater
FRIDAY, OCT 2 is sold-out; there are still tickets for Thurs 10/1. PLEASE GET TICKETS IN ADVANCE at www.brownpapertickets.com/event/72294 (or link through our "get tickets" page direct to the bpt)--and remember seating is general admission.
Week 3, Oct 1/2: Peter Carpenter, Hedwig Dances, The Humans, Ayako Kato/Art Union Humanscape, The Seldoms
Ayako Kato's website
http://www.artunionhumanscape.net/
"stirring, inventive . . . an extraordinary group of dancers and choreographers" (Chicago Tribune)
The Other Dance Festival was founded in 2002 by co-curators/producers Kay LaSota and Elizabeth Lentz and is produced by The Chicago Moving Company. Held every fall for 3-weeks, this concert series presents sixteen of Chicago's finest modern dance artists and companies. The ODF exists to provide a venue and visibility for Chicago modern dance artists and their work, as well as a one-stop site where Chicago audiences can sample and sink their teeth into a cross section of Chicago modern dance artists and styles.
2009 Festival Sponsors: The Elizabeth F. Cheney Foundation, The Alphawood Foundation .
What critics say about The Other Dance Festival:Hamlin Park Fieldhouse Theater, Chicago 3035 N. Hoyne (map)
"daring and often beautiful, it is an invitation to the adventurous" Chicago Tribune
"intimate, expertly curated. The only place you can see 16 of the city's top modern dance artists packed together into three weekends of artistically loaded lineups" TimeOut Chicago
"full of guts and glory . . . fraught with beautiful haunting movement" Chicago Tribune
"an end of summer ritual for dance fans . . . the perfect place to see what these companies are all about" TimeOut Chicago

intrepidmouse . Last modified Jul 09, 2010 12:13 p.m.
---