Presentation of a century old story of Japanese immigrants to Mexico
Pasadena Japanese Cultural Institute
595 Lincoln Ave.
Pasadena, California, 91103
United States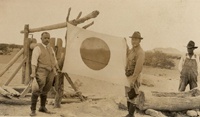 (Photo: Tsutomu Dyo holding the Japanese flag on a visit to Mexico. Courtesy of the Dyo family)
Open to the public event. Free.
Dinner at 5:00 p.m. required $20 per person

For more information, contact Ken Wagner at (626) 441-2925 or email at davidwag@sbcglobal.net

Over a century ago, two brothers left their home in the coastal city of Sendai, Japan, and emigrated to Mexico to seek new lives. One of the bothers, Tsutomu Dyo, made his way to the state of Chihuahua and established as a silver mining enterprise that made him very wealthy.

By 1910, Mexico was engulfed in revolution. In 1916 his hacienda was looted by Pancho Villa's revolutionary forces and used as a temporary headquarters for their attack on Columbus, New Mexico,

When the United States invaded Mexico to put an end to Villa, Tsutomu became an agent for the United States and was involved in an abortive attempt to poison him. When the United States withdrew from Mexico, he came along, settling in the El Paso area.

In El Paso, the brothers, Tsutomu and Louis Kenzo, took up farming and started families. Louis Kenzo died in 1941 shortly before the attack on Pearl Harbor by Japan. Following the attack, the families were interned, and Tsutomu was placed in a separate camp for dissidents.

The Dyo Journey is filled with epic risk taking with great successes and tragic setbacks. However, it is a story of courage and endurance in the face of opposition that has become a lasting legacy.

Initially this event was planned as a family reunion. But the family thought the talk and discussion would be of more general interest, especially to Japanese American community. The Pasdena JCI facility has about 100 people capacity.

yn . Last modified Jul 09, 2010 12:12 p.m.
---