33RD ANNUAL POWELL STREET FESTIVAL
Woodland Park
***WOODLAND PARK at 700 Woodland Drive***
(Woodland and Adanac, just east of Clark and south of Hastings)
Vancouver, British Columbia
Canada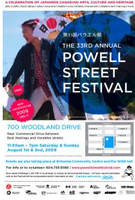 The Powell Street Festival is the largest Japanese Canadian festival and the longest running community celebration in Vancouver! Enjoy traditional and contemporary Japanese Canadian performances, including taiko drumming, sumo wrestling, martial arts demos, folk and modern dance, alternative pop/rock/urban music, visual arts, film/video, as well as a fantastic array of Japanese food, crafts & displays. Full festival schedule available online at http://www.powellstreetfestival.com.
***Due to the City of Vancouver's summertime construction plans for Oppenheimer Park, the Powell Street Festival will relocate to Woodland Park for its 33rd celebration. The Powell Street Festival will return to Oppenheimer Park in 2010.***
FESTIVAL WEEKEND HIGHLIGHTS
Cross-cultural exploration between Sawagi Taiko and First Nations performance group Tiqilap * Contemporary chamber music by Mark Takeshi McGregor & Rachel Kiyo Iwaasa * Screening of Empty Orchestra, in which karaoke singers collaborate with new media artists * Performances by Vancouver Asian Canadian Theatre, dancer Aretha Aoki (USA), and contemporary taiko performer Kenny Endo (USA) * Documentaries by Tadashi Nakamura *

OTHER FESTIVAL EVENTS
GENERATION MOVEMENT: COLLABORATION & COLLECTION
August 1st-14th, 2009, Helen Pitt Gallery
Artist Talk: August 6th
In Generation Movement, contemporary artists Rafael Tsuchida, Cindy Mochizuki, and Kaori Kasai work with non-artist members of their own families to produce works based on the concept of intergeneration. Seeking to overcome misunderstandings between generations, Generation Movement brings the non-artist older generations into the folds of the contemporary art world. Curated by interdisciplinary media artist and curator Lyndsay Sung.
TRACES: PROJECTING STORIES OF OUR NEIGHBOURHOOD
August 1st, Evening, Woodland Park
Traces: Projecting Stories of Our Neighbourhood connects youth, artists and seniors in an exploration of a diverse Vancouver neighbourhood. Several youth artist interns working with artists Tamara Unroe, Madoka Hara, and Diana Leung, will produce a series of video projections. Through shadow puppetry, stop motion animation, live animation, their short videos share the collected histories of senior Strathcona residents.
PSF BASEBALL GAME
August 2nd, 10:30am, Woodland Park
Come take part in a fun slow-pitch ballgame—a tribute to the Asahi who played at Oppenheimer Park in the team's home "Powell Street Grounds." Fans and friends are welcome!

almostjapanese . Last modified Jul 09, 2010 12:12 p.m.
---