Breaking Ground Speaker Series: Valerie Matsumoto
UCLA
Campbell Hall 3232
Los Angeles, California
United States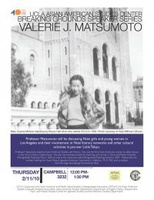 The UCLA Asian American Studies Center is hosting the "Breaking Ground Speaker Series" that will highlight innovative research topics about the Asian American and Pacific Islander community as part of its 40th anniversary celebration.
On February 11, 2010, Professor Matsumoto will be discussing Nisei girls and young women in Los Angeles and their involvement in Nisei literary networks and other cultural activities in pre-war Little Tokyo.
Professor Matsumoto teaches Asian American Studies and History. She was the first Asian American woman to attain tenure in the UCLA History Department. She also has received awards for teaching, such as the C. Doris and Toshio Hoshide Distinguished Teaching Prize in 2006 as well as the university-wide Distinguished Teaching Award in 2007. Matsumoto has written Farming the Home Place: A Japanese American Community in California, 1919-1982 and co-edited Over the Edge: Remapping The American West.
**Lunch will be provided**
Other cosponsors of the event include: the Asian American and Pacific Island Studies Undergraduate Association (APIUA), the Asian American Studies Graduate Students Association, Asian American Studies Department, Department of English, History Department, Paul I. and Hisako Terasaki Center for Japanese Studies, and the Women's Studies Department.

vkm . 更新日 2010年7月9日
---