Bloom: The Kokeshi Project
Nikkei Centre
6688 Southoaks Cewscent
Burnaby, British Columbia, V5E4M7
Canada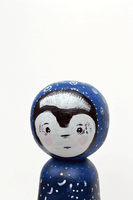 5th annual art auction fundraiser!
Tickets: $25 + tax
From folk art to custom creations – the Nikkei National Museum is pleased to present 100 artist-designed kokeshi for a special show and silent auction.
Please join us for the Nikkei National Museum & Cultural Centre's 5th annual Bloom Art Auction Fundraiser. Visitors have the opportunity to bid on these beautifully creative kokeshi, with all the proceeds supporting quality museum exhibits, programs, education and special events related to Japanese Canadian history, culture and art. Hosted by Margaret Gallagher, the event will be held on April 25 from 7:00pm to 9:30pm at the Nikkei Centre.
For tickets, more information on the event or how to donate to the centre, please call 604.777.7000 or visit the website at http://centre.nikkeiplace.org/kokeshi-project/.

NNMCC . Last modified Mar 22, 2013 7:58 a.m.
---