Summer Classic Anime Film Series (Part 2)
Japanese American National Museum
100 N Central Ave
Los Angeles, California, 90012
United States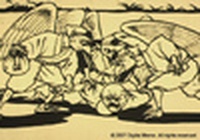 Pay-What-You-Can!
For four exciting nights, the Tateuchi Democracy Forum will screen vintage anime titles from the 1920s and 1930s, the Golden Age of Japanese silent film.
Please note: This screening is part of an on-going four part series. However, each program stands on its own and does not require you have seen the previous film(s).
The anime classics we will be screening:
Animal Sumo (1931)
Momotaro's Sky Adventure (1931)
The Unlucky Butterfly (1931)
Home Alone Mice (1931)
Spring Song (1931 or 1932)
Momotaro's Underwater Adventure (1932)
The Plane Cabby's Lucky Day (1932)
Olympic Games on Dankichi Island (1932)
Sports Day at Animal Village (1932)
Sanko and the Octopus: A Fight Over a Fortune (1933)
The Larks' Moving Day (1933)
Belly Drum Dance at Shojoji Temple (Unknown)
Private 2nd Class Norakuro (1933)
The rest of the series will screen:
Part 1: Thursday, July 21
Part 3: Thursday, August 4
Part 4: Thursday, August 25

JANM . Last modified Jun 07, 2011 6:29 p.m.
---